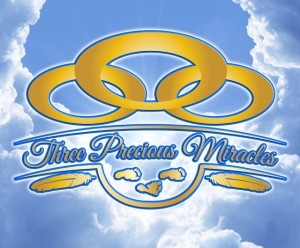 Three Precious Miracles
(TPM) is an organization that helps provide basic needs to Native American Foster children and grandparents raising grandchildren. TPM will provide basic support to the children and family to help them get adjusted to their new environment when they have been removed from their home in a crisis situation.
TPM is working with Tribal communities, and volunteers, throughout the valley in creating a resource facility of supplies for Native children. This facility would be the first of its kind on any Native American reservation. This facility would benefit native youth that have been placed into a foster home inside or outside the reservation that are in need of basic items. Some items that we will provide to those in need would be clothing, diapers, shoes, blankets, toy, toiletries and cultural trainings.
Three Precious Miracles is looking for aid to help us with this major need on American Indian reservations and to touch the lives of thousands of children that are impacted yearly.
To contribute to TPM see below or make checks payable to: TAPAZ on behalf of Three Precious Miracles. TPM welcomes any organization or business to get involved.
Email:
threepreciousmiracles@gmail.com
Phone:
(805) 947-3040

Monthly Donation Options
Precious: $5
Loving Smiles: $10
Miracles: $25
Children: $50
TPM: $100
Bronze: $300
Protect our Native Children: $500
Gold: $650
Donate via Credit Card or eCheck
Is my donation and credit card info secure?
Yes, the security and confidentiality of your information is our highest priority. We will not sell, trade or share your personal information with anyone else, nor send donor mailings on behalf of other organizations, and we will only share personal information if you have given us specific permission to do so.
Is my donation tax deductible?
Yes, we are a fiscally sponsored project of Technical Assistance Partnership of Arizona , which is a public 501c3 organization recognized by the IRS. Your donation is tax-deductible to the fullest extent permissible by law.
How do I know that my donation was made successfully?
You will receive an emailed receipt immediately after your donation is submitted and your credit card is processed. Your donation will also show up on your bank or card statement within 1-3 business days.
Do I get a receipt?
Yes, a receipt is sent to your email inbox once your donation is processed. Please be sure to keep a copy of your receipt for tax purposes. If you select a recurring donation, you will be sent an individual receipt each period when your donation is processed.
Is my donation private?
We will not share or sell a donor's personal information with anyone else, nor send donor mailings on behalf of other organizations.